Back
Netflix and Scriptbank announce winners New Voices Script Contest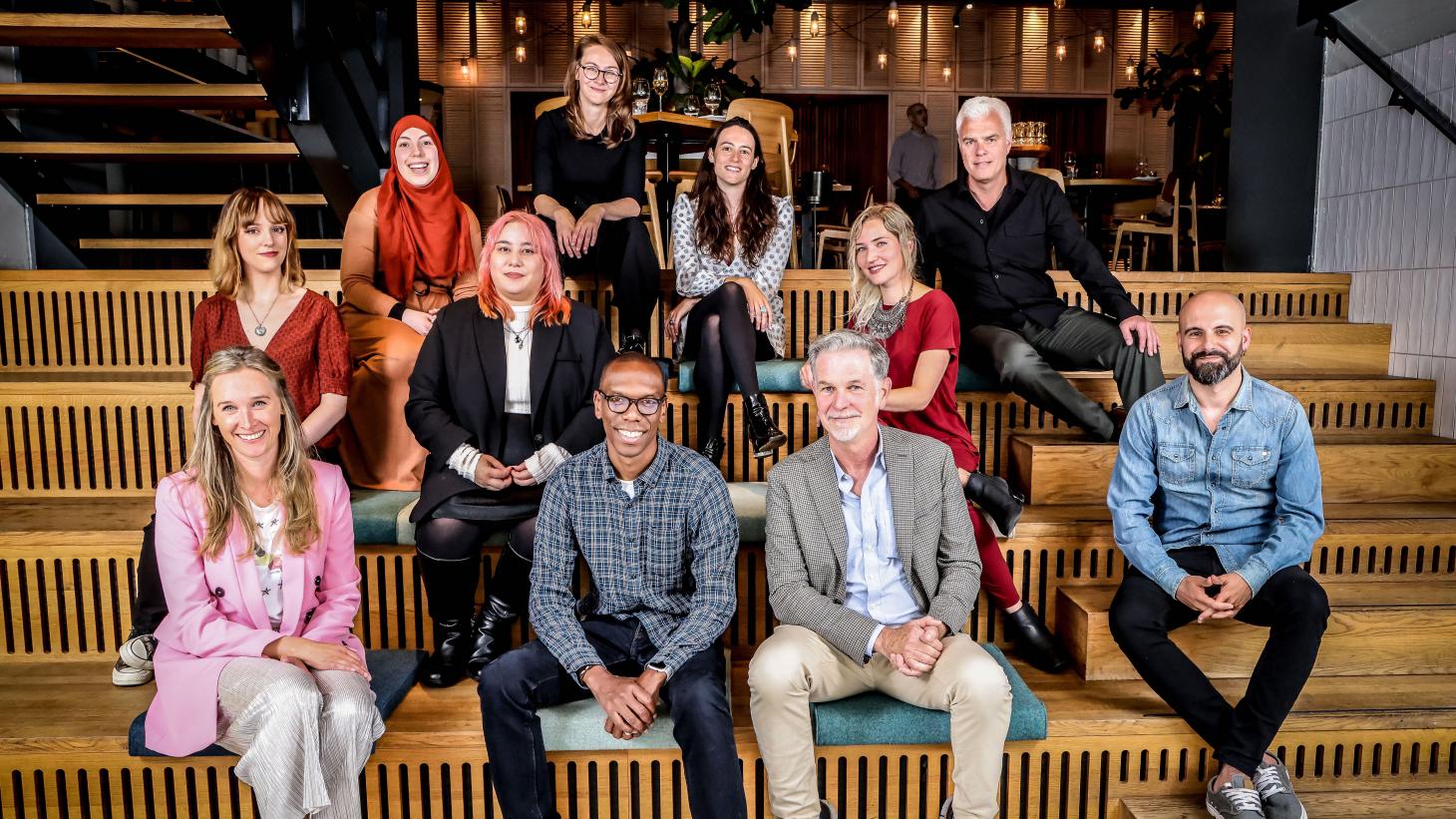 Netflix today (June 30) announces the winners of the New Voices Script Contest. From the no fewer than 550 applications that came in in January, a first selection was made of the 15 talents who were allowed to develop their scripts under the supervision of script coaches.
The two best scripts have been rewarded with 25,000 euros
"One and one equals three" - Joosje Duk
Fearing to become a boring and middle-class couple, Jazz and Mink decide to do a trio with the climate activist and empowered Eve. Although Mink is also having a great time, the evening turns Jazz's life upside down. For the first time, after a year of faking orgasms, Eve cums on her and won't let it go.
"Twin Flame" - Elvira Porcedda
In a world where portals lead to a parallel universe where you are automatically happy, the bond between two best friends is tested when one of them wants to leave for the other world and the other wants to stay behind.
Three scripts received an amount of 5,000 euros:
"Maribella" - Luca Izeboud
The elderly Maribella suspects that a serial killer is active in the nursing home where she is staying. From her 'alterego' Sherlock Holmes she sets out to investigate, taking child psychologist Joyce aka Watson in tow.
"The Alt Alt" - Samya Hafsaoui
Three friends who meet at a concert of their favorite band Fairly Tale get a chance to fulfill their biggest dream in a contest: performing live with Fairly Tale. But they are thwarted by the band's record label manager, who has other plans.
"Next Level" - Shanice Kamminga
Game designer Maxine has no connection with her friends and colleagues. When she gets in touch with the hero from the game she's working on one night, everything changes. She falls in love with Kaelum and programs herself in his world. She becomes more and more involved in his world, but then her new boss has other plans for Kaelum.
Two scripts received a special mention and 2,500 euros each:
"Cancelled" - Dorothee de Rooy
When the celebrated comedian Emma has destroyed her own carreer Amsterdam, she flees to Schiermonnikoog, where the Hollywood actor from her dreams is shooting a film. There she puts on a new life as a new coat, and manages to get a part in his new film. She's back in the spotlight, but then Emma wonders: who am I really?
"Gold Rush" - Yücel Kopal
When Mert comes up with the idea to start a gold purchasing shop with his friends, he sees his chance to finally belong to the winners in society. Although things are going well for him at first, there are more and more challenges that lie in wait.
Netflix is ​​taking an option on all seven scripts for further development, with the intention of producing two of them into a Netflix Original Movie.
Janey from Ireland, from Netflix, who has selected the winners:
"We are very proud to have rolled out this new competition in the Netherlands for the first time. It's great to see how much enthusiasm there is from screenwriters, and writers from other backgrounds, to share their stories. All fifteen participants delivered a fantastic performance. Within four months and under intensive coaching, they wrote their script and all went through an enormous development as screenwriters. Their commitment was great and their talent unmistakable. I am looking forward to seeing how our participants will find their way in the Dutch creative industry and with their stories ensure that more people will recognize themselves in films and series. "
Scriptbank organizer, Maarten Almekinders:
"The 15 screenwriters developed their idea into a first draft of a screenplay in four months, with the help of experienced script coaches. A tough job for all writers, especially for those who had not written a ninety-page screenplay before. They are all original stories that we hope the public can see. It will therefore not have been an easy choice for Netflix, but Joosje Duk and Elvira Porcedda have more than deserved this."
New Voices Script Contest The aim of the New Voices Script Contest, which was launched in November 2020, is to discover new screenwriters in the Netherlands who can add something to the existing offer with their stories. Netflix has a diverse target group, and it is important that the range of films and series on offer is a reflection of today's world. With the competition, Netflix wants to find stories with potential and offer new Dutch talents a stage together with Scriptbank.
These were all 15 writers from the final round:
Abdelkarim & Asma El-Fassi, Dajo Leunge, Dorothee De Rooy, Elizabeth Francisco & Renata Parkinson, Elvira Porcedda, Esra Ghilane, Gaby Cochavi, Joosje Duk, Luca Izeboud, Marcelle Arriëns & Frank Hartman, Raoul Groothuizen, Samya Hafsaoui, Shanice Kamminga, Tofik Dibi, Yücel Kopal.